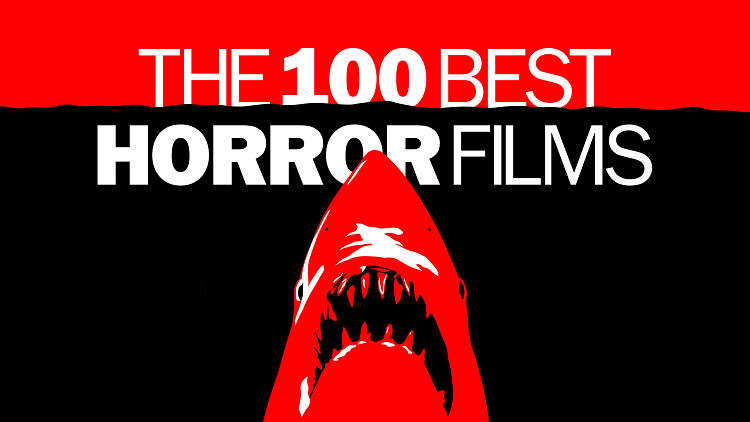 Kinematografija horora je čudovišna. Loše tretirana, pogrešno shvaćena, često podvrgnuta oštrim napadima kritičara - ali industrija ovog žanra uprkos svemu opstaje i nastavlja dalje, ostavljajući za sobom trag razaranja. Za neke horor filmovi su tek nešto više od pornografije - fokusirani isključivo na izazivanje bilo kakve reakcije - bilo da je strah ili gađenje - sve to uz vrlo malo stremljenja ka nečemu višem. Za druge horori su vid zabave, šansa da uz osmeh budu svedoci nečije noćne more.
Ali ako bolje pogledmao videćemo da su horor filmovi ujedno i priča o inovaciji i nekonformizmu u kinematografiji, mesto u kome se izražavaju opasne ideje, istražuju ekstremne tehnike, a filmski stvaraoci koji nisu mejnstrim mogu da ostvare veliki kulturni uticaj. Ako kinematografija ima to svoje nesvesno, taj mali tamni ugao iz koga izviru nove ideje, jezive vizije - to mora da je horor. Postavlja se pitanje - koji su horor filmovi najbolji?
Time Out
sajt je predstavio listu 100 najboljih horor filmova, izabranih od strane onih koji su ih pisali, režirali, igrali u njima i uopšteno od onih koji veličaju ovaj žanr (među kojima su Alice Cooper, Stephen King, Simon Pegg.
100. The Babadook (2014)
99. The Mist (2007)
98. Martin (1976)
97. God Told Me To (1976)
96. It Follows (2015)
95. Society (1989)
94. Scream (1996)
93. Re-Animator (1985)
92. Henry: Portrait of a Serial Killer (1986)
91. Braindead (1992)
90. Dead Ringers (1988)
89. Day of the Dead (1985)
88. The Unknown (1927)
87. Session 9 (2001)
86. Saló (1975)
85. Phantasm (1979)
84. The Orphanage (2007)
83. Dracula (1958)
82. Black Sabbath (1963)
81. Invasion of the Body Snatchers (1978)
80. Wolf Creek (2005)
79. Angel Heart (1987)
78. Ginger Snaps (2000)
77. The Fog (1979)
76. Come and See (1985)
75. Hellraiser (1987)
74. Black Sunday (1960)
73. Black Christmas (1974)
72. Alien (1986)
71. The Old Dark House (1932)
70. Kill, Baby… Kill! (1966)
69. The Cabinet of Dr Caligari (1920)
68. 28 Days Later… (2002)
67. Night of the Demon (1957)
66. Switchblade Romance (2003)
65. Pulse (Kairo) (2001)
64. The Beyond (1981)
63. Lake Mungo (2008)
62. The Night of the Hunter (1955)
61. Les Diaboliques (1955)
60. [Rec] (2007)
59. Vampyr (1932)
58. Kwaidan (1964)
57. The Vanishing (1988)
56. The Sixth Sense (1999)
55. Repulsion (1965)
54. Eraserhead (1977)
53. Deep Red (1975)
52. The Devils (1971)
51. The Descent (2005)
50. Peeping Tom (1960)
49. Ring (Ringu) (1998)
48. Invasion of the Body Snatchers (1958)
47. Dead of Night (1945)
46. The Silence of the Lambs (1990)
45. The Others (2001)
44. The Tenant (1976)
43. Hour of the Wolf (1967)
42. The Devil's Backbone (2001)
41. Possession (1981)
40. Jacob's Ladder (1990)
39. Cannibal Holocaust (1979)
38. Eyes Without a Face (1959)
37. Frankenstein (1931)
36. The Wicker Man (1973)
35. Carnival of Souls (1962)
34. Bride of Frankenstein (1935)
33. Martyrs (2008)
32. Cat People (1942)
31. Videodrome (1982)
30. The Changeling (1979)
29. The Birds (1963)
28. The Evil Dead (1981)
27. The Blair Witch Project (1999)
26. Poltergeist (1982)
25. The Omen (1976)
24. Freaks (1932)
23. Nosferatu: A Symphony of Horror (1922)
22. The Haunting (1963)
21. Audition (1999)
20. A Nightmare on Elm Street (1984)
19. Let the Right One In (2008)
18. The Fly (1986)
17. Evil Dead II (1987)
16. An American Werewolf in London (1981)
15. Carrie (1982)
14. The Innocents (1961)
13. Don't Look Now (1973)
12. Night of the Living Dead (1968)
11. Suspiria (1976)
10. Jaws (1975)
9. Dawn of the Dead (1974)
8. Halloween (1978)
7. Rosemary's Baby (1968)
6. The Thing (1982)
5. Psycho (1960)
4. Alien (1979)
3. The Texas Chain Saw Massacre (1974)
2. The Shining
1. The Exorcist
priredila:
Jelena Šošić